What is virtual reality training?
Virtual reality (VR) training refers to a digital simulation of realistic scenarios for training purposes. 
A learner can interact in a 3D virtual environment using electronic devices, such as VR headsets, sensor-equipped gloves or controllers.  
Simply put, when a person puts on a VR headset, they are immediately immersed in a virtual learning environment.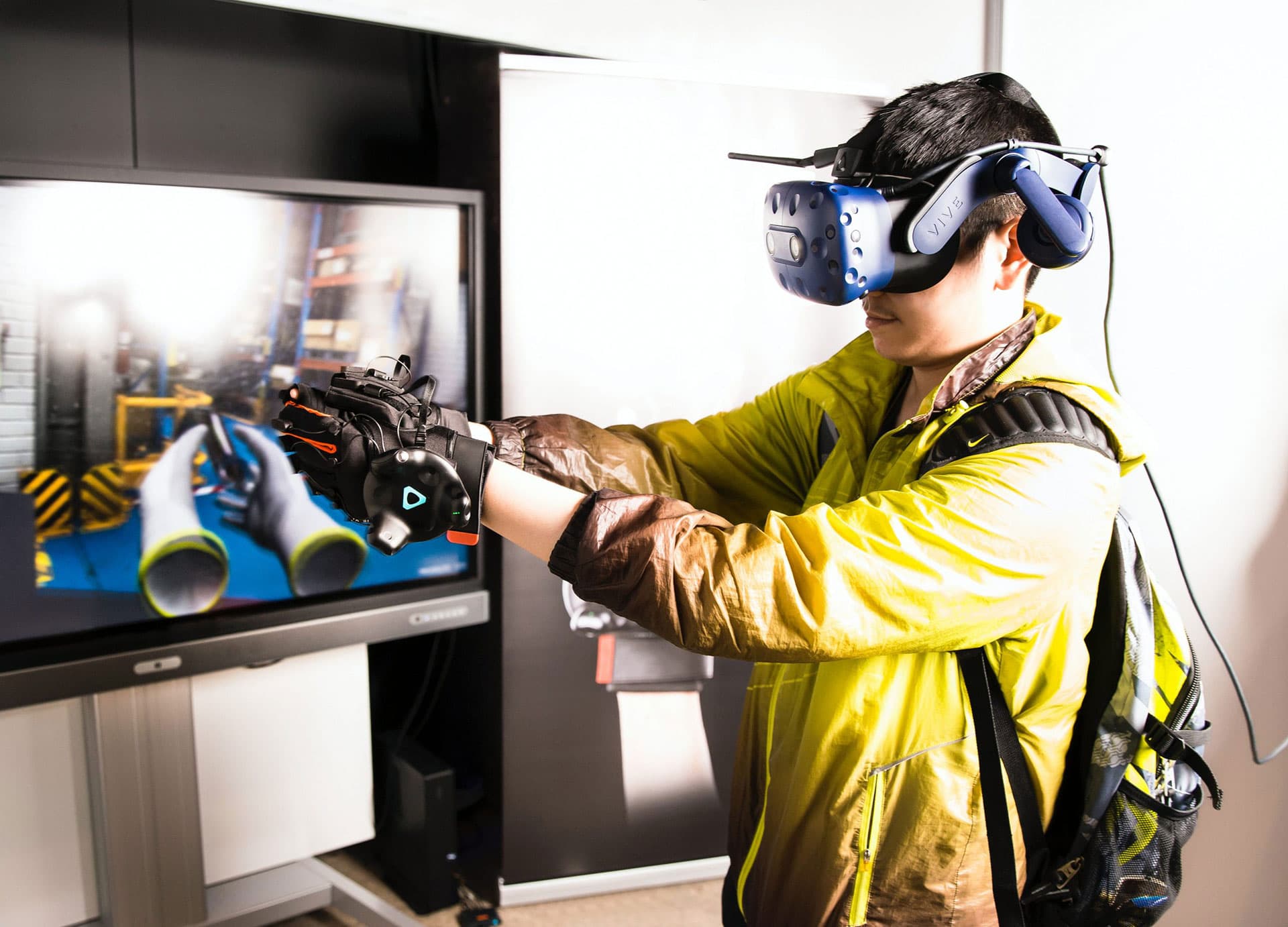 In virtual reality training, you can find a multitude of learning environments, such as: 
Engineering

 

Medical

 

Military

 

Tourism

 
Sales

 

Food industry

 

Building trades

 

And much more

 
Virtual reality technology manipulates your senses with auditory, visual and sometimes even tactile stimulators, simulating the way you perceive and interact with the real world. 
This immersion technique is what makes virtual reality so compelling and VR training so effective. 
Much simpler than words, here is a short video that will help you understand it a little better. 
How to use virtual reality training?
In order to train with VR, you need to equip yourself with different tools that are essential for immersion. 
Accessories: VR headsets and VR controllers
Virtual reality is done through VR headsets, such as the HTC Vive and the Oculus Rift. 
These VR headsets, you have certainly already seen on television. One of the things that comes to mind is the immersion in a video game. 
A gamer puts on a VR headset and armed with his two controllers; he becomes a knight fighting an army of trolls.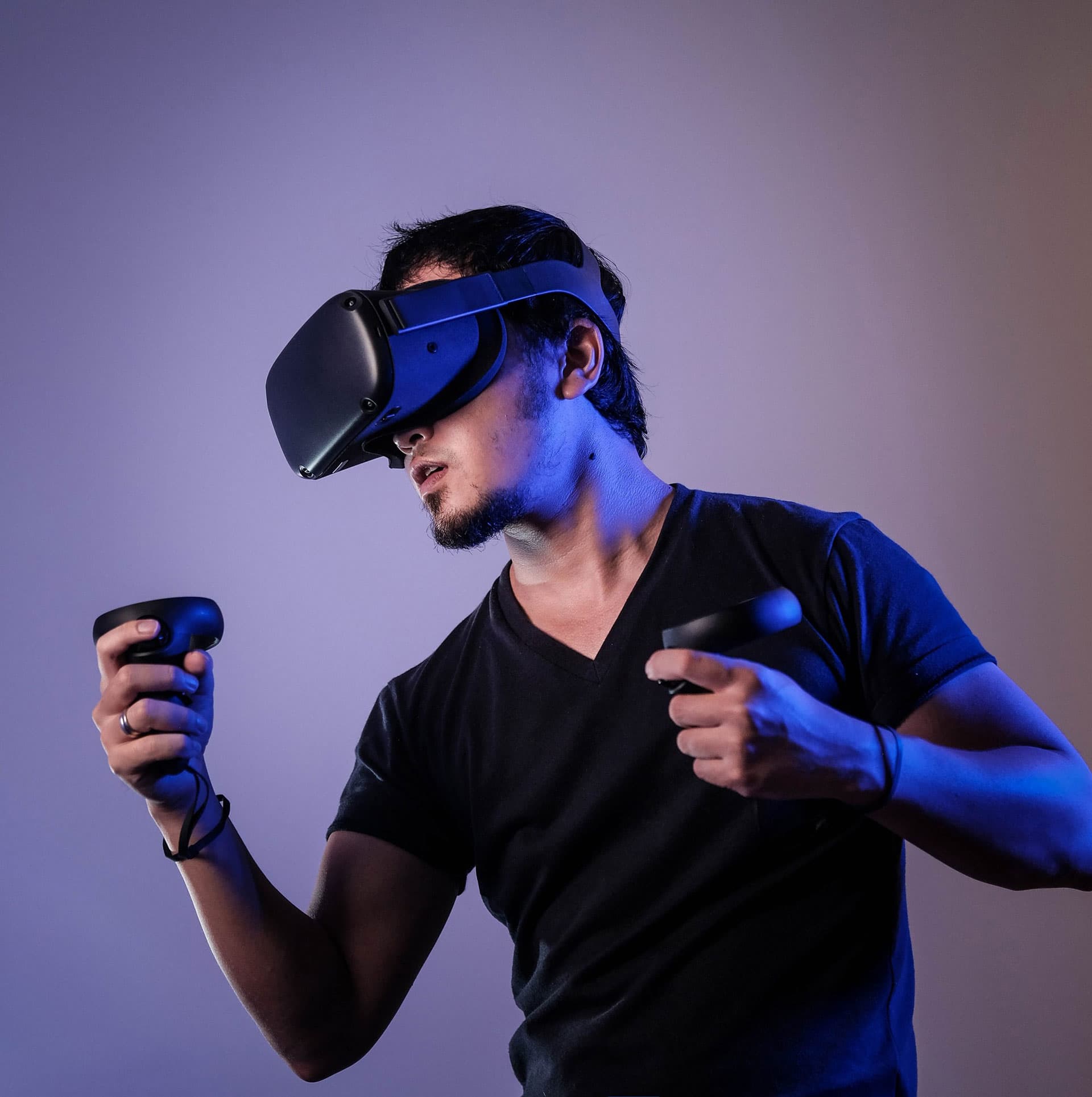 For virtual reality training, it is the same thing. The person puts his VR headset on his head and joysticks allowing him to perform gestures and actions in his virtual environment. 
Instead of a sword as in our medieval game, the apprentice who uses the VR training will have a paint gun to learn gesture by gesture to paint a car. 
And contrary to popular belief, it is not in video games that VR is most developed, but in the professional setting. 
These accessories are not delivered alone, you must have a simulator to which they are connected. 
Depending on the profession you are training, you will have different types of simulators. 
Simulator for carpenter trades 

Welder and boilermaker simulator 

Bodywork or industrial painting and sandblasting simulator 
Simulator for sawmill trades 

Industrial trades simulato

r (line operator, electrician, maintenance operator, etc.)

 

Simulator for construction trades (machine operator, mason, crane operator, surveyor, building painter, etc.)

 

And many others

 
Each training course is linked to a specific machine. 
Your apprentice is trained via simulators, but what about the results? How do you know how well he is learning and progressing? 
To analyse the results of the training, there are the analysis platforms. 
With these platforms, you can set up your training courses and exercises, but also detect the weaknesses and performances of your learners and adapt your training to each one. 
At Mimbus, our Vulcan analysis platform is compatible with all our simulators. A true trainer's assistant that will provide you with all the information you need to gain efficiency and flexibility. 
Who uses professional VR training?
Training managers or human resources actors use VR professional training for the learning of their trainees, future workers, students, etc. 
Many trade shows, schools and companies use immersive training.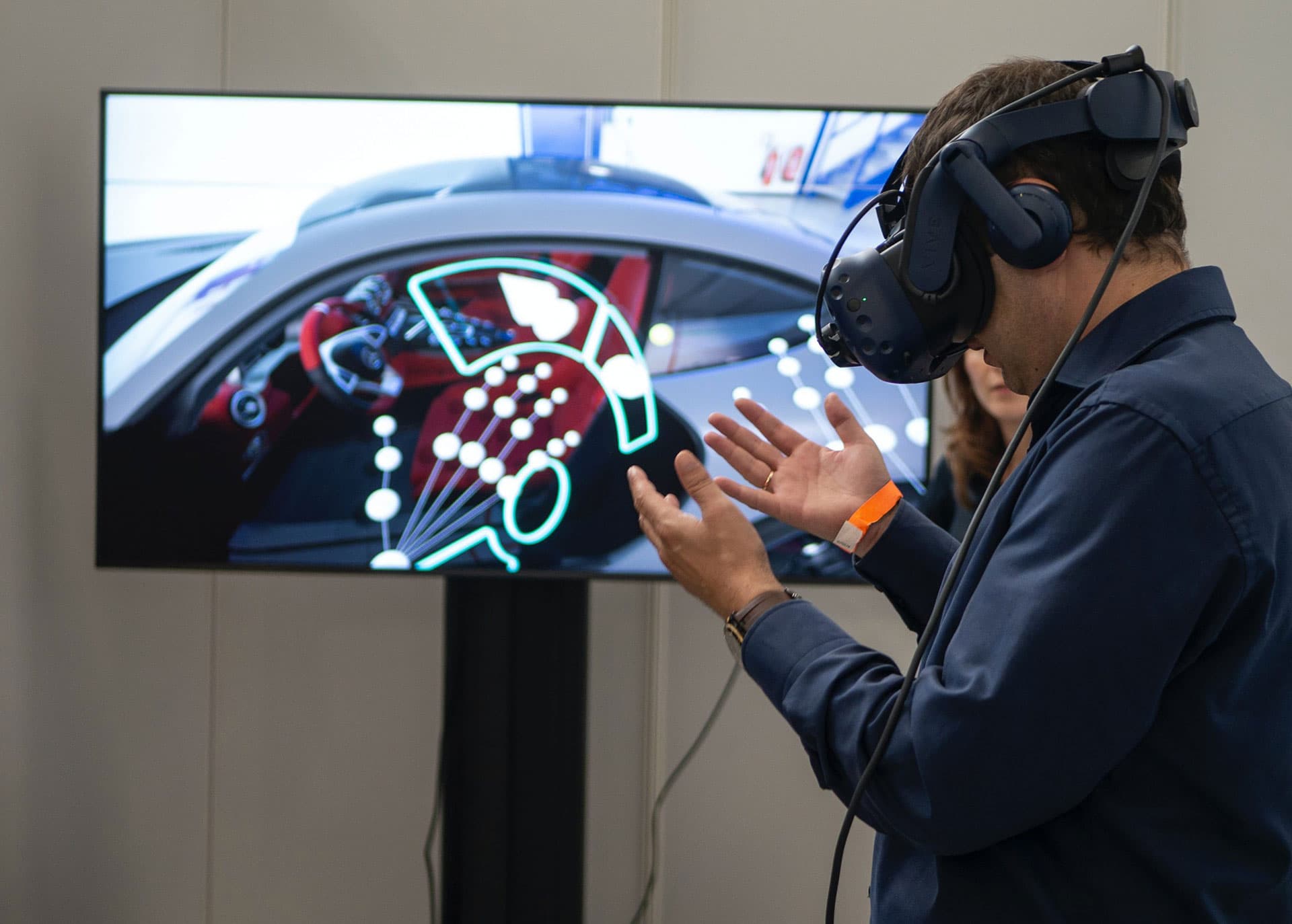 Virtual reality job training goes beyond simple learning by creating real emotions in the user. 
Joy, stress and surprise are used to navigate real world environments and situations. 
Nothing better to convince people to learn a new job. 
Examples of multinationals using immersive training
Having become a reference in pedagogy for several years, virtual reality training is present in the largest multinationals. 
Wallmart, BP and UPS have all been seduced by the many advantages of this type of training. 
Since 2017, Wallmart has been using virtual reality to train and assess the skills of its employees. 
Based on the Oculus Rift headset, the training puts its employees in 360° situations in a Wallmart store. In this one, they learn to resolve interpersonal conflicts that unfold in front of them. 
They embody a cashier who must manage a long line of customers. Then, with a few clicks, they suddenly find themselves in the shoes of one of these customers. 
The goal here is to teach employees how to handle stressful situations, especially during Black Friday. 
Since 2015, BP has been training employees in emergency exit procedures at their oil refinery in Hull, England. 
Employees were able to learn from mistakes in the virtual world, reducing the likelihood of making the same mistake in the real world. 
The goal of this training is to reduce the risk of accidents and save lives. 
In 2019, UPS is improving safety training for its drivers through virtual reality. (source) 
VR headsets simulate the experience of driving on the streets in Germany and England. 
Students using the modules must verbally identify potential road hazards such as pedestrians, parked cars, etc. 
The goal of this training is to make the company's future drivers aware of the dangers of the road. 
The benefits of immersive learning
As Google proved in its DayDream lab, immersive learning has many benefits.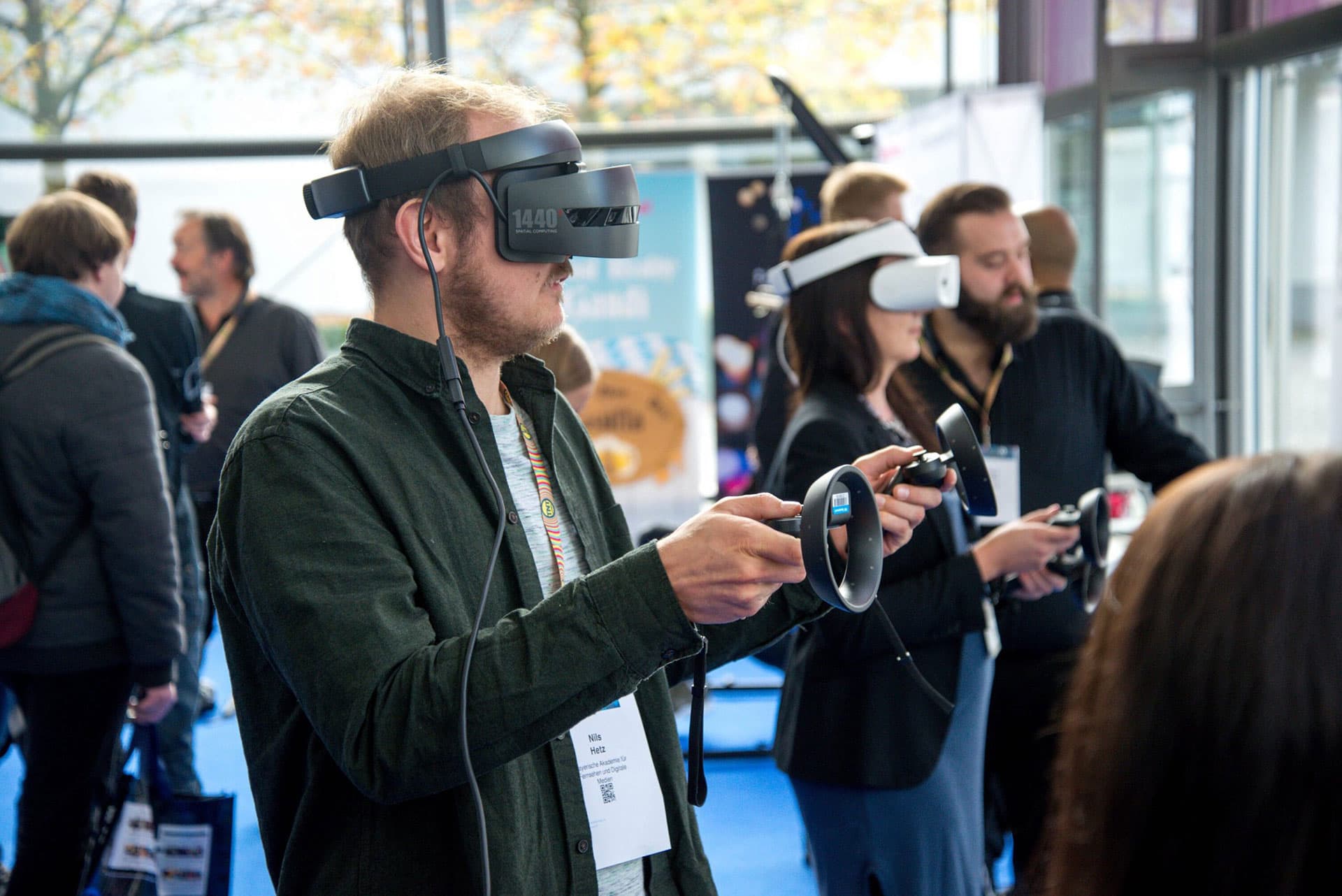 Don't waste your consumables anymore
In the most obvious benefits, we find the decrease due mainly to the waste of consumables (paint, food, balls, bandages). 
A significant cost reduction! 
Creating a risk-free simulation is the first advantage of VR training. For example: it is impossible to cut a finger while learning to cut a plank of wood in a sawmill! 
Follow the progress of your learners with a masterful hand
Thanks to a continuous analysis of your learners, VR allows you to really gauge the learner's knowledge of business tasks. You can keep an eye on their progress at all times! 
How to switch to virtual reality training?
Far from being complicated, switching to virtual reality training is easy. 
There are many companies offering training solutions in VR specific to each profession. 
At Mimbus, we are specialized in the learning of manual trades in virtual reality. 
Don't hesitate to contact us and let's talk about your VR needs!